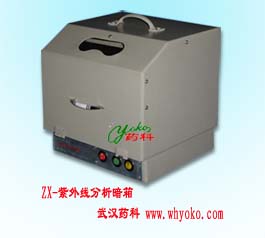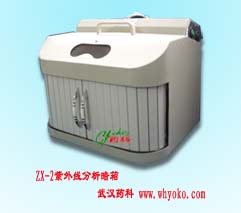 ZX- UV Analysis Cabinet
Brief introduction:
ZX- UV Analysis Cabinet is one of series equipments of TLC.The UV lamp and black box be designed for integration,suitted especially in the medicine analysis of TLC, paper layer analyses, biochemical gel analysis, fluorescence spot detection. We choose filter and the UV tube with good quality,so that the transmission efficiency is increased 1-2 times.
It has characteristics of smaller power, the quantity of heat is low and easy to operate.
Another UV Analysis Cabinet of 11W U lamp tube, the UV illumination may be enhanced one time.
Technical specifications:
the UV lamp
ZF(A): 1 of 254nm, 1 of 365nm and 1 of fluorescent lamp
ZF--B:2 of 254nm and 1 of fluorescent lamp
ZF--C:2 of 365nm and 1 of fluorescent lamp
ZF--D:2 of 312nm and 1 of fluorescent lamp
UV filter :50×200 mm
transmittance ratio: ≮ 68% At254nm≮ 86% At365nm
Power: 20W 220 V50-60HZ
www.whyoko.com www.tlcinstrument.com