TD Electric Spray Bands Sampler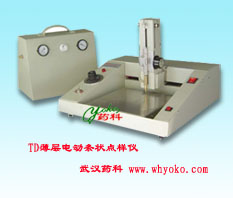 TD Electric Spray Bands Sampler
Instrument introduction
It is one of series of TLC equipments .It is improved on the basis of the original sampler, absorbing foreign advanced technology.The sampler has 3 characters.
1. using our company's proprietary design of non contact sample of gas current, can be sampled by a single point, multi point, shape of segment, Forward, reverse and/or repeat. Therefore, to facilitate the operation, improve work efficiency.
2.The instrument has the heating platform of stainless steel, comprehensive heating, constant temperature of TLC plate, Increase the separation degree and reproducibility.
3. It has electric sample tower, press needle rod with automatic control motor and overcome sample by hand to avoid damaging layer.Hollow phenomenon of the sample spots will not be produced, therefore it improves the board effect andincreases separates degree.
4.Besides above characters, electric sample tower is improved to more stable and reliable, the sample switch may self locking.It may both gap sample and sample continuously .It makes analysis working convenienceand efficient.
Technical parameter
Sample way: Spraying sample, support overlapping sample
Sample shape :Point,band
Sample platform: It is may put 200 * 200mmTLC plat
Platform heating power: 600WThe temperature of35-200 ℃ is automatic control
Platform moves: Synchronous generator, automatic protection end the route
Band length: 0( spot sample) - 180 mm( be used in half preparation TLC)
Syringe drive: Synchronous motor, automatic protection under the route
Syringe: Match :10ul , 25ul,it may choose to match 50 and100 ul
Sample accuracy: It is better than 1.0%
Sample reappearance: It is better than 1. 5%
With no oil pump: 0-0.12Mpar may be controlled
Gas is consumed: 0.1-2.0L/min may be controlled
Power: 630W 220 V ±10%, 50-60 HZ,
Size: 400(L) *390s (W ) * 290 ( H) mm
Weight: 6.5 kgs
www.whyoko.com www.tlcinstrument.com