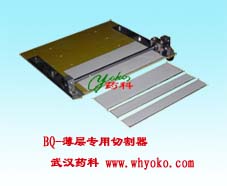 Brief introduction
The cutter is designd specially to cut TLCplate in TLC laboratory, mainly be used in cutting TLC analysis plate according to the basic size, is efficiently small equipment in TLC analysis work..
1. Suitable for precise cutting of TLC plate..
2. In the research method,in the monitor task and in the pretesting, frequently use of the small size of the precast plates, the BQ- cutter may cut the TLC plate of any need the size.
3. most of the thin layer 3mm thick plate Can be easily cut,IT will not damage the sensitive thin layer.
4. Easy to use, can be read out directly on the needs of the ruler size.
5. Through the effective cutting, will help to save on the cost of high-quality precast plates.
Specification
Size: 300(L) *250s (W ) * 50 ( H) mm
Weight: 1 kgs