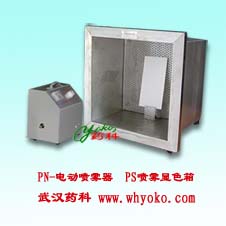 PN Electric TLC Sprayer
Brief introduction:
It is that our factory puts out one of analysis equipments of TLC.This instrument is small and suitable use. In its work, atomization extent size is adjustable, atomization is even, droplet is small, it is easy to wash etc. characteristic. It is the substitute that abroad imports with the same type equipment.In addtion, it can be used as the eqipment of small ventilation reaction
Based on the different needs of analysis workers,we offerⅠ,Ⅱ,Ⅲ type sprayer. Working principle is the same basically, only the power of air pump and the capacity size are different.
Technical parameter:
Three models: (no oil air compressor ,stepless regulating pressure and speed )
PN Ⅰ: The power is 50W , capacity :65L/min , noise < 48DB ,size: 207*142*215 mm
PN Ⅱ: The power is 80W , capacity :90L/min , noise < 50DB,size: 242*168*240mm
PN Ⅲ: The power is 160W ,capacity :150L/min , noise < 55DB,size:282*192*248 mm
Characteristic :
PN can be coupled with no oil air compressor regulately and three kinds of spherical glass spray bottle, in their work with the atomization size adjustable, atomization is even,droplet is small, easy to clean etc. characteristics, to meet the different needs of TLC analysis .
www.whyoko.com www.tlcinstrument.com