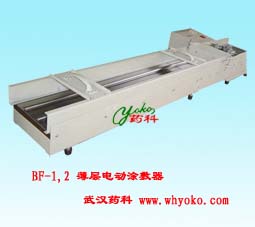 BF-I/II Automatic TLC Plate Coater
Instrument introduction:
BF-I-II Plate Coater is the major one in the products of TLC ,wich is research from engineers of medicine analysis and instrument technicians, combinning the analysis working experience of TLC with foreign advanced technique .the major convenient to analysis worker, meet the needs of analysis work coating different thickness TLC board.
Technical parameter :
BF-Ⅰ: Coated 200 mm wide coating: for 100× 200 and 20 0× 200mm plates.
BF-Ⅱ: Coated 100 or 200 mm wide coating, that is suitable for 100 × 100, 100 × 200 or
200 × 100, 200 × 200mm plates.
Coating thickness: 0.05mm and 2.0mm
Not parallel degree≤ 0.04 mm
Pass rate: 99.5%
Automatic speed: 4.2 m / min
Number of coating: 200 × 200mm glass plate coated 210 blocks/10 minutes
characteristic :
1.This model run smoothly , high-quality system board, with a pass rate of over 99.5% , the low rate of failures, maintenance conveniently.It can be widely used to TLC analysis of qualitative and quantitative, isolation and identification.
2.The new box is made ofAluminum alloy of coating plastic ,it is light and durable, adjustments are easy to use.New adjustable coated box use national standards Cypriot feet, they can be adjusted in the 0.02 to 2 mm scope of the coated box slot to meet the research and analysis staff coating thin 0.02 to 1.8 mm thickness.