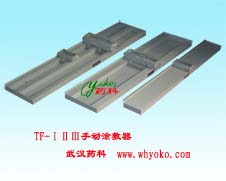 TF- TLC Plate Coater by hand
Brief introduction
TF-TLC Plate Coater is designed for scientific research or analysis of indoor plants in a small number of TLC plate, preparing methods is the manual mode .
For satisfying the needs of coating board to research or factory TLC analysis, We put out TF-I-Ⅱ-Ⅲ TLC Plate Coater.
Technical parameters
TF-I : for coating the wide 10 cm board of TLC, have a wide coating frame of 10 cm, to coat thin layer. of wide 5X10,10X10,20×10 cm
TF-II :for coating the wide 20 cm board of TLC, have a wide coating frame of
20 cm , prepare board specifications for the board of 5×20, of 10×20, of 20×20cm of thin layer.
TF-III has synthesized structure and the advantage of I model and II model, have two coating frames. At one board seat may be completed above-mentioned various specifications board of thin layer
It has adjustable layer thickness 0.02 - 2 mm coating frame.
Material: Aluminum alloy to be Sprayd plastics, never gets rusty , it is durable.
www.whyoko.com www.tlcinstrument.com